Annual Bob Novack Music Awards Presented To Students June 7, 2023
1308 Productions congratulates Daniela Debach and Leonardo Maloy on their talent as tremendous student musicians and as the recipients of the 2023 Bob Novack Music Awards at RKBBH K-8 Center in Bay Harbor, Florida. This is the 26th consecutive year that the Bob Novack Awards have been presented to faculty-selected outstanding music students.
1308 Productions, a non-profit organization that support music education, was created with inspiration from the musical career and life-long service of renowned musician and orchestra leader Bob Novack. The organization was founded over two decades ago by his grandchildren, Jason and Allison Novack, who today are successful adults who appreciate their musical roots and continue to give back to the community and its local schools.
Founded in 1997, the Bob Novack Music Awards recognize outstanding music students and promote the value and importance of music education in schools. It also celebrates the achievements of local teachers. At Ruth K. Broad Bay Harbor K-8 School, we thank great and legendary music educator Onil Rodriguez for his dedication to music and our area's youth. Mr. Rodriguez is a wonderful asset and outstanding educator in our public school system.
Musician, band leader, and music teacher Bob Novack was one of Florida's most talented musicians. His music has brought smiles to people's faces at everything from major events with thousands of attendees to countless special occasions, to cultural, social, and religious celebrations. To honor and remember Bob Novack, the Bob Novack Music Awards recognize music students selected by their school's music faculty on the basis of their love and dedication to music and their ability to lift the lives of others through music.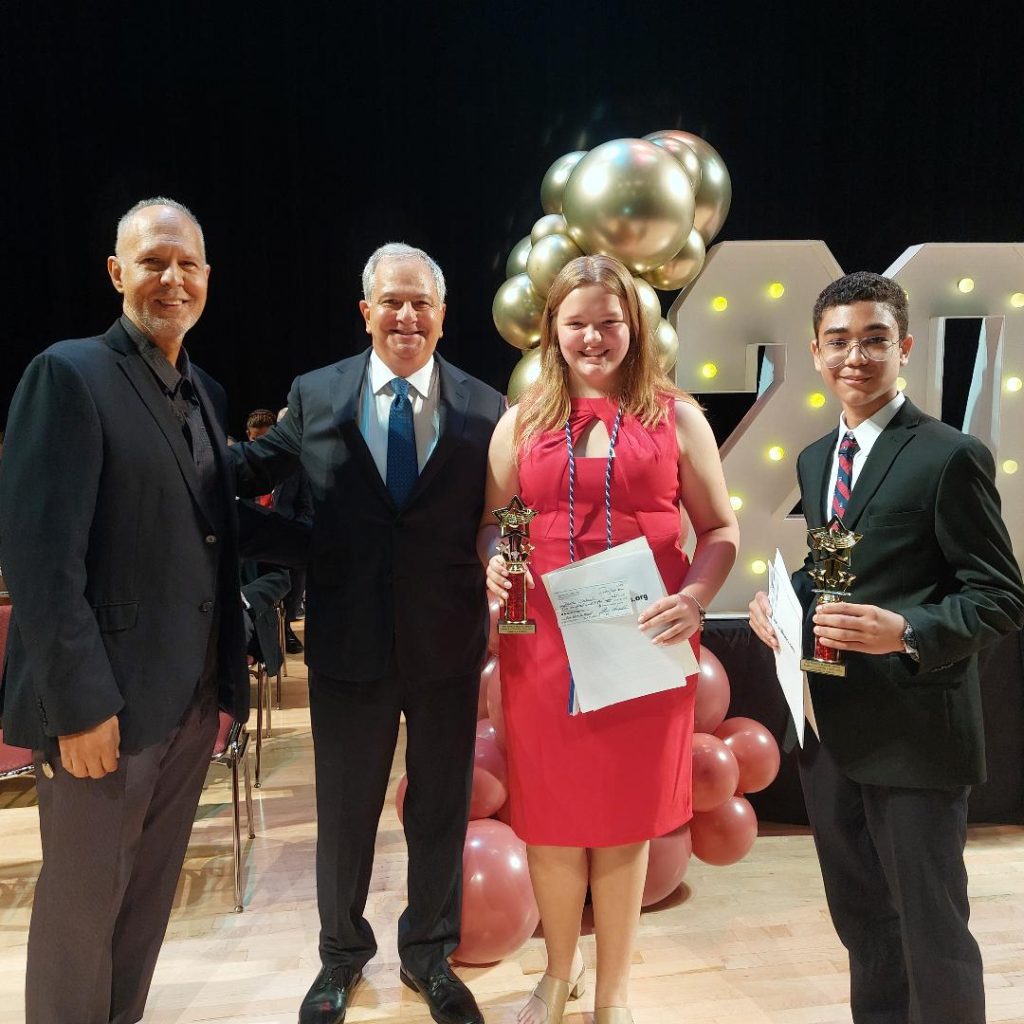 THE WINNERS
Daniela Debach
Involved in many music education activities throughout her tenure at RKBBH K-8, Daniela Debach is multi-talented, mentors other students, and is devoted to music. Daniela has performed with her school's guitar ensemble, vocal group, and string orchestra. In the orchestra, Daniela plays cello and "her skills as a cellist are unsurpassed, earning her the coveted First Chair Cellist for her orchestra's performance at the New World Symphony Orchestra," said Mr. Rodriguez. "Daneila is a great musician, and a superb mentor, and I am a better teacher for having had her, and her twin sister, in our music ensembles these last three years," said Mr. Rodiguez. "Our school is very proud of Daniela.
Leonardo Maloy
Leonardo Malor has been a leader in his school's orchestra since joining it three years ago. "Leonard is an excellent violin player, and great team player, and is always helping other students and the entire music program", said Mr. Rodriguez. Leonard is known for always volunteering to do extra work in setting up before and after rehearsals. "We are very proud of Leonardo for being accepted into the Miami Youth Symphony, a true reward for his hard work and dedication to music," Mr. Rodriguez said. Leonardo's "leadership in and out of the orchestra room has left an indelible impact on our music program", a high commendation from a legendary music teacher.