1308 Productions, a non-profit organization that support music education, was created with inspiration from the musical career and life long service of renowned musician and orchestra leader Bob Novack. The organization was founded by his grandchildren, Jason and Allison Novack, who today are successful adults who appreciate their musical roots and continue to give back to the community and its local schools.
Since 1997, the Bob Novack Music Awards have recognized outstanding music students and to bring attention to the value and importance of music education in public schools. The Awards also are an occasion to applaud the excellent music educators who work in local schools. The organization salutes the excellent music educators at Nautilus Middle School and Bay Harbor K-8 School, and we thank Ray Modia, Onil Rodriguez, and Phil Bracken-Tripp for their amazing contributions to the lives of our area's youth.
Bob Novack was one of Florida's most talented musicians, band leaders, and music teachers for over forty years. His music brought smiles to people's faces at everything from major events with audiences in the thousands, to countless special occasions, to cultural, social, and religious celebrations of all kinds. In his honor and remembrance, the Bob Novack Music Awards recognize music students who have been chosen by school music faculty on the basis of love and dedication to music and a demonstrated ability to lift the lives of others through musical performance.
At Nautilus Middle School, legendary music teacher Ray Modia and the faculty selected Esther Gonzalez for the Award. Esther is an extremely talented trumpet player and vocalist as well as a member of the school's guitar ensemble for three years. Esther also plays piano and cello, and is an emerging song writer. She devotes countless hours to rehearsals, performances, and being an example and a tutor for other students. "Esther is an outstanding individual, with great leadership potential, and she is devoted to her music and to the community," said Modia. "I think very highly of her and was proud to nominate her for this prestigious award."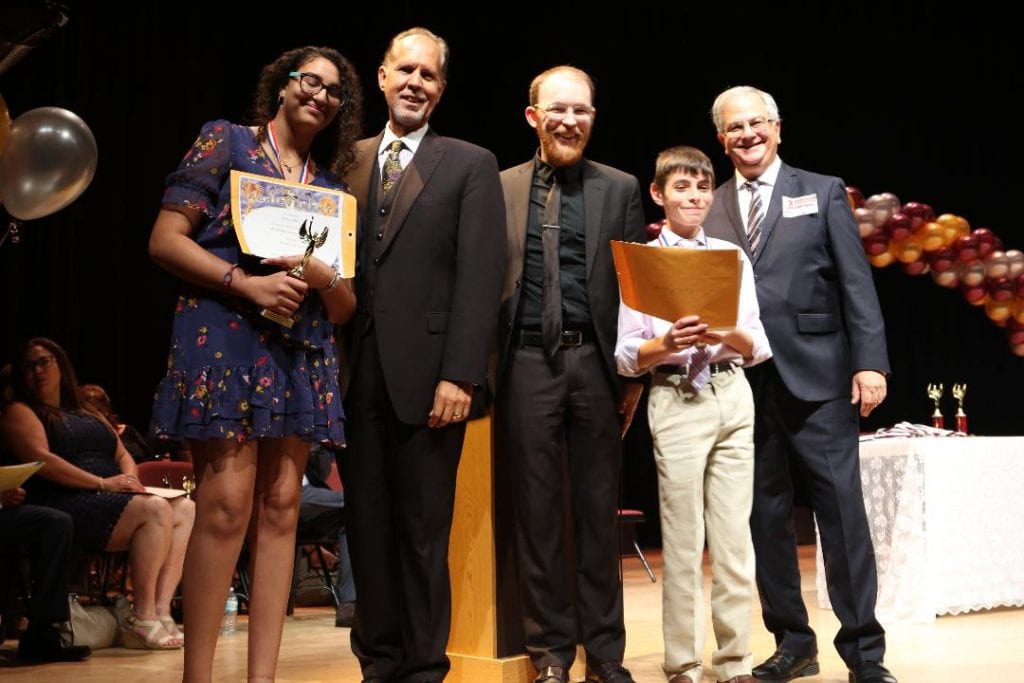 The Award winners this year at Ruth Broad Bay Harbor K-8 were two amazing students, Amani Dahab and Kyle Brenner. Amani was nominated by music educator Onil Rodriguez on the basis of her dedication to music and performance. Amani has been involved in the music program for her entire tenure at the K-8, playing the giant Double Bass with the String Orchestra. "Amani is a wonderful student and a mentor for many new music students. "I am a better teacher for having had her in my classes and ensembles for the last three years", said Rodriguez. The Bob Novack Awards are inspiring and are an awesome part of our program, and she deserves this recognition for all of her hard work and success." 
Kyle Brenner was the first member of the Bobcat Band at Ruth K. Broad, and has excelled at music and also at leadership. Nominated by music teacher Phil Bracken-Tripp, Kyle earned a Superior rating on a clarinet solo at the Florida Bandmasters Association Festival. "Kyle is a prime example of a team player, always first to help others, and putting in lots of extra time to help with rehearsals and performances," said Bracken-Tripp. "His leadership in and out of the band room has left an indelible impact on our program and we are so grateful for his time and talents." Bob Novack Music Award winners were each honored at school assemblies and presented with information about the award's history, trophies, certificates, and a $200 scholarship check from 1308 Productions. Their names are inscribed on permanent plaques and records, and on the 1308 Productions web site: www.1308productions.org
---
"The Bob Novack Awards have been part of the foundation of our entire music program for over two decades," said Rordiguez. We are so appreciative of the memory and legacy of Bob Novack, and of the tremendous public service dedication of the Novack family. Representing Jason and Allison Novack and 1308 Productions at the schools' graduation and awards ceremonies was Paul Novack, son of Bob Novack and father of Jason and Allison. Paul Novack served as mayor of Surfside for twelve years and in many other official capacities and has been an admired attorney for over three decades.
"The Novack family are unique, dedicated and very special people who are always there to support music education in our schools," said Mr. Modia, who has been at Nautilus for 40 years. Paul, Jason, and Allison are all graduates of our schools here and we are so very proud of them and their continued concern for our students."