The woman who gave birth in a bomb shelter and ran a South Florida city
Mickey Novack huddled with her family in a bomb shelter as the Nazis launched their air assault, known as the London Blitz, on Sept. 7, 1940.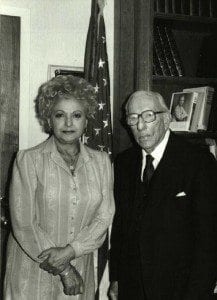 Novack's challenges inside that shelter in Bethnal Green, a Jewish section of London, were just beginning.
"She gave birth to my sister in the bomb shelter during the air raid," her son, attorney Paul Novack said on Monday, a day after his mother, a former vice mayor for Surfside, died at 97.
"For 40 days and nights, the Nazis bombed them every single day," he said. "She spent a lot of time in that bomb shelter."
Two decades later, the little girl born in that shelter as Carole Kent was on her way to becoming cabaret singer Carole Taran. She was a fixture at South Florida's beachfront hotel lounges in the 1960s and '70s and was an events producer.
Her mother Mickey, remarried to Robert Novack, worked alongside her daughter and son-in-law Bob for their firm Adam Productions. The company booked name acts like Luciano Pavarotti, Aretha Franklin and Chris Rock for corporate events. (Taran died at age 72 in 2013; another son, Harry Novack, also predeceased his mother.)
In the 1960s, Novack, living in Surfside since 1958, took her son Paul on a trip to see Bethnal Green. Many of its buildings remained in rubble. That imagery, and having lost some members of her family to the Holocaust in Europe, left an impression.
"She loved this country and appreciated it and gave herself to it," her son said. "She was a trailblazer. She came from a time when women didn't serve in public positions."
Novack volunteered as a teacher of business education classes, particularly for girls. When her sons were students at Bay Harbor Elementary in the 1960s, the school lacked air conditioning.
"My mom and other moms took that as a cause and put in the first AC in the old school," her son said.
Novack served on Surfside's planning and zoning board from 1975 to 1979 and would spend the next 11 years, until retiring in 1990, as the town's vice mayor. She was the longest-serving female on the council. During her run, she opposed runaway development, speaking out against developers who wanted variances to build oversized condominiums.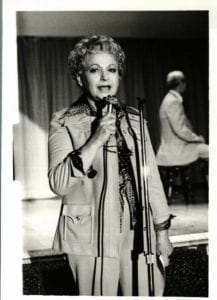 She sponsored an ordinance that outlawed the parking of cars on house lawns for more than 48 hours at a time. "You see cars on lawns everywhere. It's just disgusting," she said in a 1986 Miami Herald article.
Paul Novack served as Surfside's mayor from 1992 to 2004.
Mickey Novack also served as president of Surfside Taxpayers Association, and treasurer for numerous organizations, including Hadassah, Women in Government Service, the PTA of Bay Harbor Elementary and P.R.O.P.S. The latter, a woman's charitable organization, put on shows with stars like Carol Channing and Phyllis Diller to raise money for women who wanted to pursue careers in entertainment.
In 2008, on her 90th birthday, Novack scored letters of congratulations from President Bill Clinton ("You've had the opportunity of living through one of the most fascinating times the world has ever known," he wrote) and current presidential candidate Hillary Clinton.
"The fervor and ardor with which former Vice Mayor Novack devoted herself to the community and her family in conjunction with her life achievements is truly inspirational," Rep. Ileana Ros-Lehtinen said when she entered Novack's name into the Congressional Record in 2008.
In addition to her son Paul, Novack is survived by her grandchildren Adam Taran, Jason and Allison Novack, and great-grandchild Samantha Taran.
Funeral services will be at 11 a.m. March 8 at Riverside Gordon Memorial Chapels, 20955 Biscayne Blvd., Aventura. Donations in her name can be made to 1308 Productions to support scholarships for young musicians and local music education programs.
Obituary appeared March 7th, 2016 on the Miami Herald: http://www.miamiherald.com/news/local/obituaries/article64671882.html#storylink=cpy